With a partly cloudy sky and temperatures in the seventies, May 11, 2016 promised to be a perfect day for an outdoor service project. That morning, eight volunteers from the management and staff of Bowman & Company LLP gathered in Palmyra, New Jersey, the location of a current housing project for the Burlington County New Jersey Affiliate for Habitat for Humanity. These volunteers included Laurie Beckman, Alex Davidson, Dan DiGangi, Michael Foster, Lauren Granate, Janice Grassia, Carolyn Havlick and Maryann Holloway. As business professionals with little or no experience in construction of any kind, there were anxious expressions on many faces, including my own! The day's success, however, would prove that we had nothing to be anxious about. As explained by the construction site supervisor from Habitat, the tasks scheduled for that day involved the subflooring of the home. With hammers in hand, we installed all the bridging between the floor joists and a large portion of the plywood flooring.
"I stepped outside of my comfort zone for a good cause, and it was a very rewarding experience," stated Manager, Laurie Beckman. For Laurie, this step included learning to use a circular saw.
Senior Manager Janice Grassia, who organized this Bowman & Company LLP Day of Service, said, "To spend the day working side by side with my co-workers for the purpose of helping others was both fun and rewarding. It was great to be part of something that will make such a huge difference in someone else's life."
Habitat for Humanity began in the mid 1960s through a collaboration between Millard and Linda Fuller and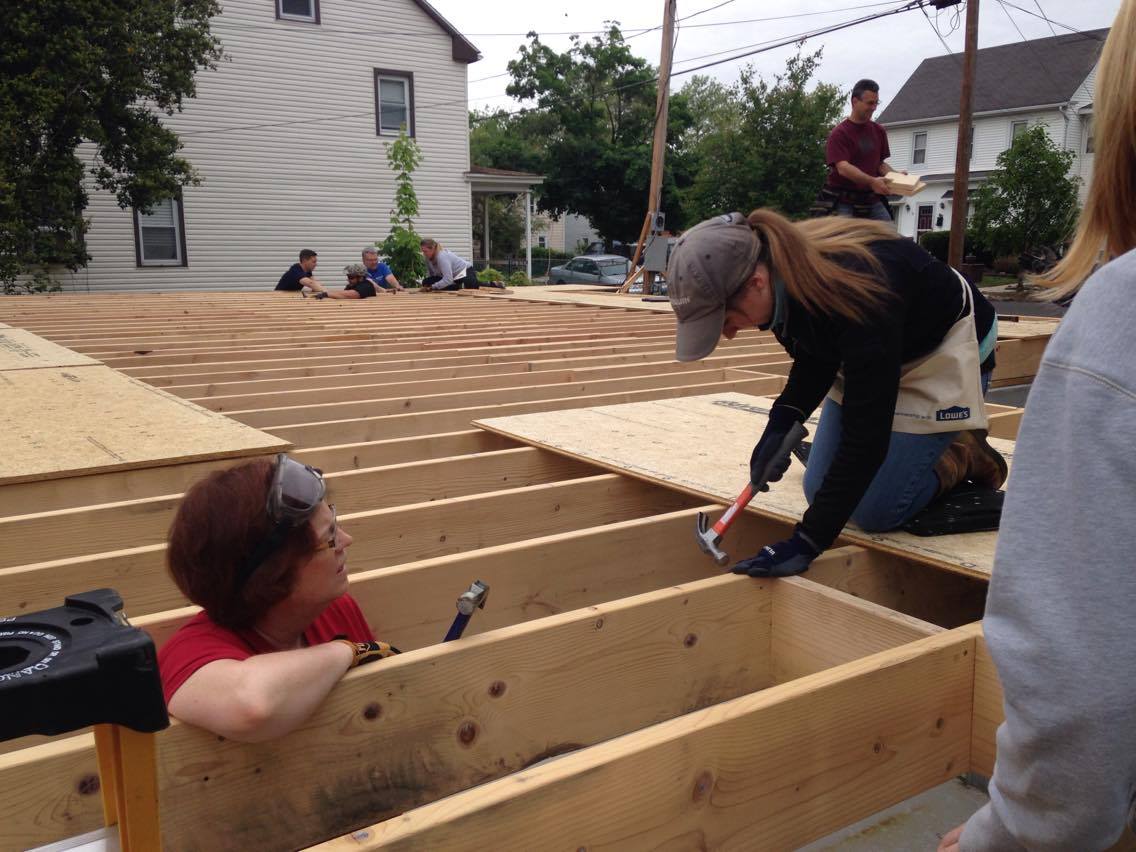 biblical scholar, Clarence Jordan. Jordan founded Koinonia Farm in Americus, Georgia in 1942, and it was at this site that the concept of partnership housing began: those in need of shelter working side by side with volunteers to build simple, decent houses. In 1984, former President and First Lady James and Rosalynn Carter became involved with the Jimmy Carter Work Project for Habitat, and their personal involvement brought national visibility and a dramatic increase in new affiliates around the country. I had first heard about Habitat for Humanity in the 1980s during this growth spurt. Now, in 2016, I am grateful that I have been able to volunteer for an organization that I have long respected through Bowman & Company's Day of Service. Today, Habitat for Humanity International is a true world leader in addressing the issues of poverty housing.
The affiliate in Burlington County, New Jersey is one of many across the United States and the world. Their mission is to put faith into action by eliminating substandard and overcrowded housing and create affordable homeownership. Habitat for Humanity of Burlington County partners with families in need and volunteers to transform lives through decent and affordable housing. Since its inception in 1987, the affiliate has built homes in Moorestown, Burlington City, Medford, Mt. Holly, Willingboro, Mt. Laurel, Beverly, Burlington Township, Florence, Bordentown, Palmyra and Cinnaminson. You can read more about this affiliate on their website http://www.habitatbcnj.org/ where you can also access ways to follow them on social media.
The Bowman & Company LLP Day of Service is one of the many ways that our firm gives back to the community. We are proud to add the Burlington County Affiliate of Habitat for Humanity to our community.
{{cta('b05cee88-dbcc-43c2-af17-c5fc17122a75')}}