Bowman & Company LLP is proud to have achieved Gold recognition in the American Heart Association's Workplace Health Achievement Index. Of the approximately 800 companies evaluated between July 30, 2019 and June 30, 2020, it is with great pleasure to announce that we are in the top quadrant of employers with quality workplace employee health programs. Bowman is particularly honored to be the first and only CPA firm in New Jersey to achieve the Gold level of performance in this program and among the very few CPA firms recognized nationally.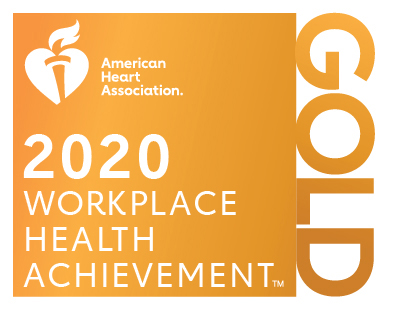 Bowman & Company LLP is one of the largest accounting and management consulting firms in Southern New Jersey. Established in 1939, the Firm specializes in providing audit, accounting, tax planning and preparation services, as well as employee benefit plan administration and management consulting services to a range of commercial and non-profit clients. Our team is comprised of dedicated professionals, including over 50 Certified Public Accountants, 25 Registered Municipal Accountants, and numerous Public School Accountants. We are committed to supporting this incredible team through healthy workplace initiatives.
The American Heart Association (AHA) has defined best practices for employers to use to build a culture of health for their employees in the workplace. The American Heart Association's Workplace Health Achievement Index measures the extent to which the company has implemented those workplace health best practices.
A unique feature of the Index is that it calculates an average heart health score for employees of participating companies that securely submit aggregate health data. Companies receive benchmarking reports, which allow them to identify potential areas of improvement so that they can advance their annual performance and recognition. Although we have achieved the highest level of recognition, we look forward to finding innovative approaches that further promote employee well-being.
Here at Bowman, we know that our 80 years of industry success has only been possible because of the contributions of our team members. That is why we are dedicated to cultivating a workplace culture that consists of comprehensive policies, programs, and senior leadership support that keeps our workforce engaged, healthy, and happy. To learn more about our company or the career opportunities we offer, connect with us on LinkedIn or via the link below.
{{cta('debe9add-b42a-4a81-a692-acb0313412cf','justifycenter')}}