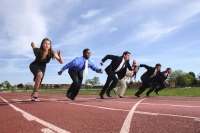 A career in government can give you the opportunity to make an impact in a broad capacity, being involved with public policy, supporting local services, and developing programs for underserved populations.
A government position can bring you challenges that bring together issues you care about, everything from environmental issues to energy and healthcare.
Whether you're currently, or looking to be, a political leader, city manager, fundraiser, or social services coordinator, there are essential skills that you'll need to continuously move forward in your career. Here are some of those essential skills for a position in government.
1. Effectively Manage and Raise Resources by:
o Managing your organization's finances based on industry best practices.
o Working with local governments to fund programs and initiatives.
o Increasing donations through effective donor-engagement programs.
2. Establish Collaborative Networks to:
o Communicate effectively about an organization's goals.
o Encourage collaboration among diverse groups.
o Drive compromise among organization with competing objectives.
3. Make Informed Decisions by:
o Advocating for ethical performance standards.
o Understanding how social and political factors affect program performance.
o Navigating the ethics of social services and public policy.
4. Develop Innovative Solutions by:
o Evaluating and fine-tuning the programs you develop for maximum impact.
o Create fresh approaches to social problems by leveraging existing knowledge of the factors that affect public policy.
To read the entire article, visit www.capella.edu